Welcome to CurLea Passion
My name is Leanne and I am one of a few specialists in the UK, trained & certified in the Curl by Curl cutting technique.  This method is used by the founder of the Curly Girl Method, Lorraine Massey.
Working in the hair industry for 16 years and being curly myself I understand the struggles that we can face with our curls.  After deciding to embrace my own curls I wanted to further my training and participated in an advanced Curl by Curl cutting class with Lorraine.
Author of the best selling books 'Curly Girl: The Handbook'' and 'Silver hair: A Handbook'.
"Frizz is a curl waiting to happen" - Lorraine Massey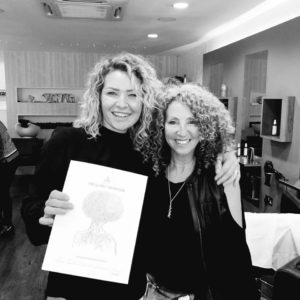 With Lorraine Massey, shortly after gaining my qualification in the 'Curly Girl Method'.
Catering for natural curly/wavy hair, I provide different services to give you the look you want.  Whether you follow the Curly Girl Method, are looking for a new colour or simply want to learn how to manage your curls, I can help.
Trained & certified in the Curl by Curl cutting technique each curl is cut individually, whilst the hair is dry.